The best things in life aren't things
In our western world we value tangible things. We believe, that they, and only they, can make us happy. That's why people sleep on the street in front of a store just to be the first to get some new gadget. And they expect to be the first to feel happy with it. And yet they are. But then, usually some three to four days later, another million people have the same gadget. Happiness then is something experienced only by the company who sold all these gadgets.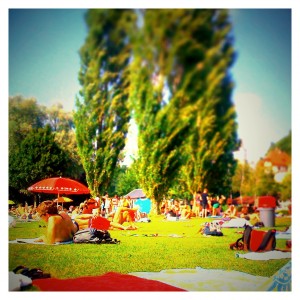 As long as we don't fully understand this mechanism, we cannot understand life itself. Because life is an intangible thing. You can't touch life, it just happens. Life is a process, is interaction. Life is a happening! What is going on when somebody passes away? Well, life just doesn't happen anymore. The tangible thing of the human body remains exactly the same – yet life ceaces to happen.
Raise your head and watch the sky. Are there clouds? Look at them! What is it? A thing? Well, it surely looks like. But in fact it's just a dance of tiny water drops. A cloud is a process of water droplets that continually freeze and condensate and thus forming the visible impression of a cloud. And this process is pretending to be a tangible thing.
And so is life: myriads of connected processes which form the impression of life. Yet life is intangible.
And if you really think it over: all things that really matter are intangible.
It's not the gadget (tangible) that matters. What matters are my emotions (intangible) about it. While a gadget might mean pleasure and fun (intangible) to me – all my grandma would feel about it is frustration and helplessness (intangible).
It's hard to break free from our innate respect for stuff. Yet if we do so, we liberate ourselves from the dependence of material (tangible) things we can't influence. By realizing that what really matters is intangible we get back the power to happiness.