Think about it: what's more important, substance or form? Tea or cup?
If we ask the same question in the realm or computers, it'd be: what's more important, software or hardware.
But the analogy is set: tea and software are substances, contained in cups or hardware as their form. And the question remains to explore: what's more important, what defines the whole, what comes first?
Let's look back. Western history is basically the history of substance. Descartes dualism split our western world into two different qualities: matter and spirit. And he put matter at on top to what we know as materialism. Due to this dominance of materialism, the spiritual world lost it's status. (If we look at it globally we see that the equilibrium has been maintained. The eastern world grew upside down by putting the spiritual world on top)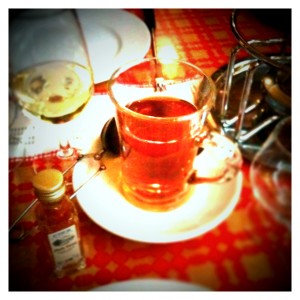 To answer the above mentioned question, it's the cup that is more important, even though it does not make sense without any tea in it. And in the realm of computers maybe it's the hardware that makes it possible that software can be executed. These are western answers and they're not fully appropriate.
As Steve Grand 1 puts it, it's better to let go of our innate western preference for substance over form and learn instead to see the material world in immaterial ways. If you put it this way, then it's the tea that shapes the form of the cup. And to a certain extend, this is certainly true. A cup necessarily has to have a certain shape to be able to keep the tea. If we explore this idea further, matter becomes a minor subset of form.
Matter is a minor subset of form!
And if we switch to our computer-world analogy, hardware becomes simply a variety of software. Look at your smartphone, this piece of hardware. What is it? A phone? Well, yes, it certainly can perform calls. And what else? It's a stopwatch, a calendar, an e-book reader, a musicbox, a movie theatre, it's a gps device, a timer, a translater, … It's almost anything you can imagine. And what makes it to be whatever you want it to be? It's the software that turns a piece of hardware in anything else. Therefore: matter is a minor subset of form!
There is essentially no such stuff as stuff. Think about it.