I got rid of my TV some years ago – and I never missed it at all. Quite the contrary, I think living without TV is a liberation that enables a better life. Here's why:
1. Advertising
Quite a bit of the airtime is advertising. You're certainly too clever to believe what they're telling you. But you buy into the idea that you're not complete, that only some piece of stuff will make you happy. That's the real problem. Advertising teaches you, that only stuff will make you happy 1. This is a fatal error. Happiness lies within you and TV makes it incredibly difficult to recognize this.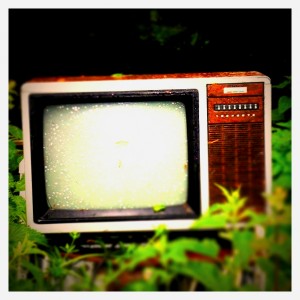 2. News
The news business follows the credo that only bad news is good news. They have to find every piece of bad news and present it with pictures as vivid as possible to increase viewing figures. It's hard to decide whether this paradox is driven by offer or by demand – fact is that bad news sell better. Now it's all trapped in a vicious circle: bad news make us feel bad and this increases our demand for even more bad news. But it's not necessarily this way – go for the good news instead 2!
3. Lack of Focus
On TV, other people make the program. Other people decide what you're going to watch and when to do so. All you can do is zap around and switch stations. But quite often, all the stations broadcast the same themes (see above, news…).
Internet is different. Even with Web 1.0 you could click and scroll and hypertext. With Web 2.0 you're definitely in the driver seat. You mash up what ever you want to learn. With Web 2.0 you evolved from a consumer to – well maybe not a producer entirely, but at least a so called prosumer 3. You co-create, you decide, you're part of it. Internet gives power back to the people, to the hive.
TV stuck somewhere even before 1.0 – it's still in the 0.5 era. Since you have to watch what ever they're showing you, you can't focus on what's interesting you. But that's the biggest task in life, to find your passion. And TV distracts from this task. 4
Think about this before you're turning on your TV the next time. If you really want to be happy, to feel good and find to your passion, it might be helpful to consider alternatives.
_______________